Walk for Italian Earthquake Relief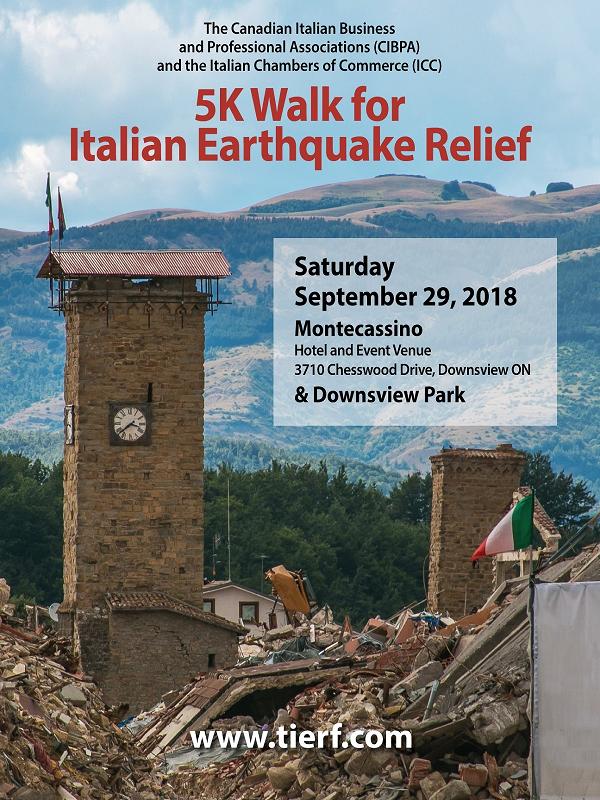 When:
Saturday, September 29, 2018
Where:
Registration is at Montecassino Hotel & Event Venue, 3710 Chesswood Drive, (across from Downsview Park), Toronto.
Walk:
Walk 5K through beautiful Downsview Park. The Walks begin at the Festival Terrace and Circuit Path, Sheppard Avenue West, Toronto (across from Montecassino Hotel & Event Venue).
How Will The Funds Raised Be used?
All proceeds from the Walk will help to grow The Italy Earthquake Relief Fund (TIERF) which is being built to provide emergency relief and ongoing support to victims of earthquakes in Italy.
To Register As A Walker:
Download a Registration & Sponsorship Sheet
Contact your friends and have them sponsor you. A receipt for income tax purposes will be issued for contributions of $20.00 or more.
To join as a Walker here are the minimum amounts you need to raise:
Adults: a minimum contribution of $250.00
Seniors and students under 18: a minimum contribution of $50.00
Groups of three or more: the first walker must have a $250.00 minimum contribution; each additional walker a minimum of $100.00 contribution
On The Day Of The Walk:
On the day of the Walk, bring your Registration & Sponsorship Form, and any money you have collected, to the Montecassino Hotel & Event Venue, where you can also simply confirm your on-line sponsorship, pick up your T-shirt and start walking. Two refreshment stops on the walk course will ensure your hydration. Look for the volunteers in safety vest fluorescents to guide you along the way. When you return to Montecassino, enjoy a refreshing beverage and bask in your success.When you finish your walk, collect your certificate of completion. If you have raised $1,000 or more, you will receive a plaque!
---
N.B. Dress for the weather - layers are best and wear comfortable walking shoes.
---
To Donate:
If you are unable to participate in the walk please sponsor a walker or make a donation online at: tierf.com/donate or mail your cheque payable to: The Italy Earthquake Relief Fund, 3710 Chesswood Drive, Toronto ON M3J 2W4
Event Sponsors:
Thank you to our Walk Event Sponsors: The Canadian Italian Business and Professional Associations (CIBPA) and the Italian Chamber of Commerce (ICC) for their invaluable support in making this walk happen.
For More Information:
For more information, email gmail%23com|TIERF2017 or call (647) 563-1630.
---
*Thank you for helping bring aid to earthquake victims in Italy*
---